Our Firm
Welcome to Splawn Simpson Pitts, a Lubbock based law firm.
At Splawn Simpson Pitts, we take pride in the relationships that we develop with our clients and take the time to get to know them and understand the reasons that they have come to us for legal help. Because of this personal attention, our clients and their families have turned to us for two generations.
Civil Litigation is the primary focus of our practice. As experienced civil trial lawyers, we represent both sides of the docket in matters involving personal injury and property damage resulting from motorcycle and car accidents, products liability and workplace injuries. We also represent clients in matters involving business, banking and commercial litigation, medical malpractice and probate litigation. Our practice also features a heavy emphasis on arbitration and mediation, which are processes seeking to resolve legal disputes prior to trial.
Being a small law firm located in Lubbock, Texas, we take the time to know and understand each of our clients. We believe in communicating regularly with our clients throughout all the stages of the legal process to provide effective legal counsel and furnish problem-solving strategies to help resolve their legal concerns. We are proud of our reputation for detailed preparation of cases and skilled court advocacy that we have earned as both defense and plaintiffs' lawyers.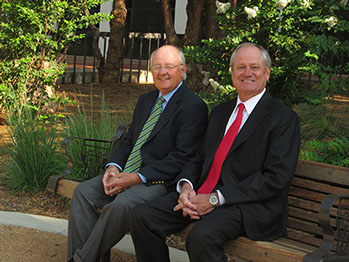 We are knowledgeable in Texas law and experienced advocates for our clients. Based on our experience, personal approach and credentials, Splawn Simpson Pitts has established a distinguished record of representation and advocacy on behalf of our many clients. We have represented both the plaintiff and defendant to achieve successful outcomes in a substantial number of significant cases.
If you need advice from a car accident attorney or require assistance in any of our other areas of legal practice, contact us at Splawn Simpson Pitts to learn how we can help you.
Our Communities
We support Texas Tech University and Texas Tech sports and are proud of the traditions of fundamentals, discipline and hard work that define these and the other institutions that are important to West Texas. We strive to provide quality professional legal representation to our clients continuing in these proud traditions.
It is our privilege to serve clients throughout West Texas and the panhandle including: Lubbock, Amarillo, Plainview, San Angelo, Abilene, Sweetwater, Odessa, Levelland, Lamesa; and, Randall, Swisher, Nolan, Taylor, Ector, Tom Green, Howard, Andrews and Gaines Counties; as well as the Concho Valley and the counties of Lubbock, Bailey, Lamb, Crosby, Garza, Lynn, Terry, Hockley, Yoakum, Dawson, Motley and Parmer Counties, as well as the Permian Basin.
At the civil litigation law firm of SPLAWN SIMPSON PITTS, we take walk-in appointments, and offer no-cost initial consultation to discuss your legal concerns. If we can be of service to you, please contact us.