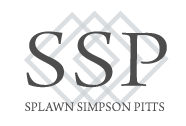 Areas of Practice
Civil Litigation | Commercial Litigation | Health Care Professionals Attorney Disciplinary Proceedings | Wills & Trusts | Probate Litigation
Mediation & Arbitration
Lubbock Attorneys Splawn Simpson Pitts
We are experienced in civil litigation and our attorneys represent clients on both the plaintiff and defense sides of cases. We also provide quality representation in business, banking, employment, and labor-relations matters. We regularly serve as arbitrators and mediators in cases involving these and other areas of law. The firm's office is at 907 Texas Avenue, Lubbock, Texas.
© 2013 Splawn Simpson Pitts
No attorney-client relationship is established between any user of this site and Splawn Simpson Pitts or any of its attorneys unless the relationship is evidenced by a written legal services agreement signed by both the attorney and the client. John Simpson is Board Certified in Personal Injury Trial and Civil Trial Law by the Texas Board of Legal Specialization. The attorneys responsible for this web site are John Simpson and Thomas E. Pitts. Thomas E. Pitts is not certified by the Texas Board of Legal Specialization.